Laventa Omanyala: How Our Son Saved us From Mega Debt
Laventa Omanyala, the wife to the sensational sprinter and Africa's fastest man Ferdinand Omanyala, recounted how enrolling their one-year-old son in a competition, helped them traverse through difficult times.
Speaking to journalist Lynn Ngugi, Laventa intimated that their financial woes began after she had given birth to their son, Quinton Omanyala.
At the time, Ferdinand was still in school and in the early stages of his athletics career. The family relied on Laventa's savings in order to pay rent and cater to their day-to-day needs.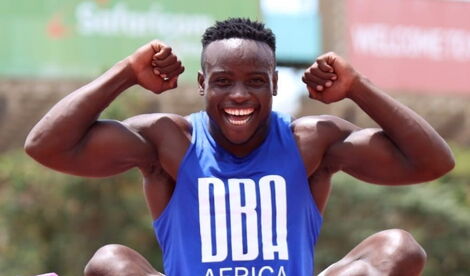 An Undated Image of Kenyan Sprinter Ferdinand Omanyala.
This, however, changed when three months after she had given birth, they used up all of the savings. The family soon plunged into mobile loans and heavy debt.
She noted that despite support from her family, their plight continued as their expenses exceeded all their income.
"I thank my family for they came on board to assist but it reached a time that we went broke since, in as much we got support, we didn't have a salary to sustain us," she stated.
Fortunately, Laventa stumbled upon a competition where a local company was looking for baby ambassadors. She affirmed that she decided to give it a shot and posted Quinton's photos online with hopes of ultimately winning the competition. As days passed by, the photos trended and they emerged top three.
"At the end of the competition, we made it to the top three and we were awarded Ksh100,000. This really saved us because we were sinking into debt.
"After tax, we received Ksh80,000 which we survived on," she stated.
The amount led them to settle their debts as well as pay rent for the next six months.
Further, Laventa pointed out her plans of getting back to the track for the next season- in a bid to reach the heights set by her husband. She noted that she would focus on long jump and 100-meter sprints.
The couple broke the internet after Omanyala recently detailed Laventa's pivotal role in his athletic career.
"I trained for six months without any competition, we had no money, my girlfriend was paying the rent and taking care of the bills when I was broke.
"She has been part of the journey, I now want to take care of her. She will get anything she wants," Omanyala stated.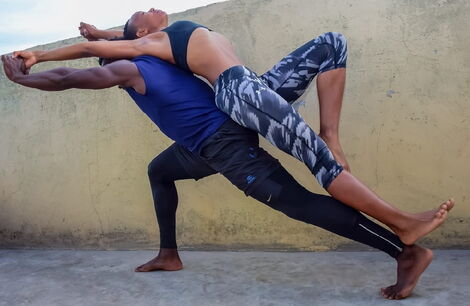 A File Image of Ferdinand Omanyala and his Spouse, Laventa